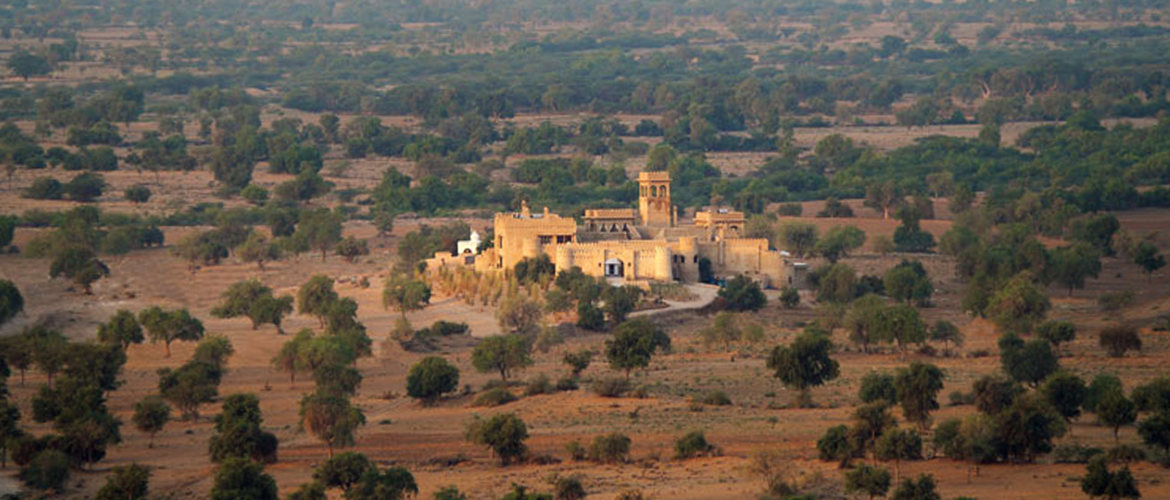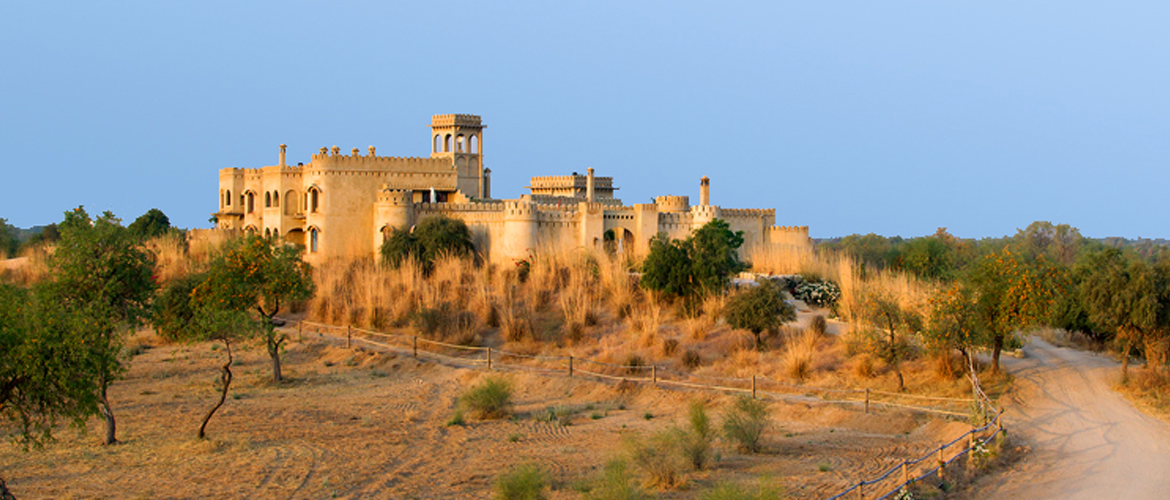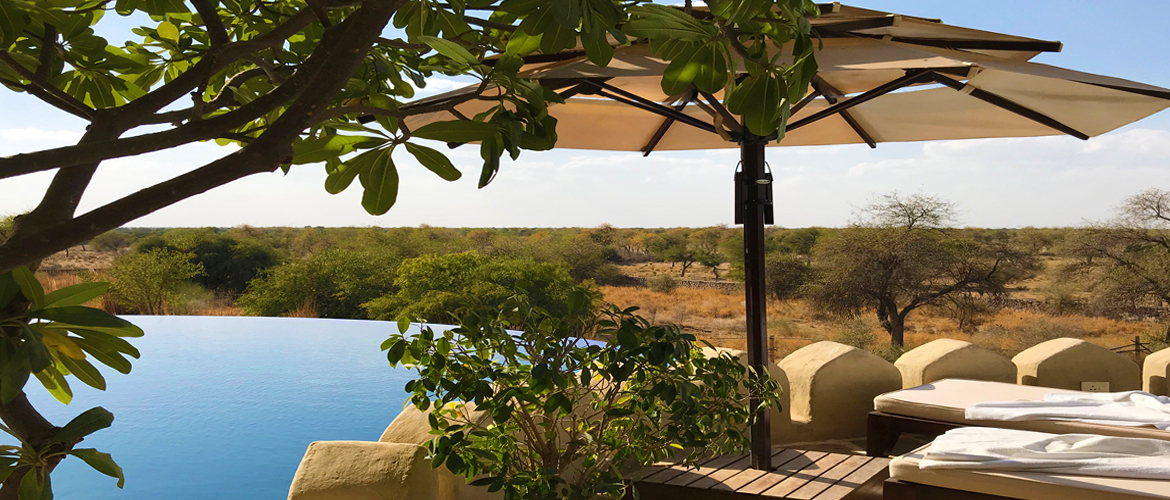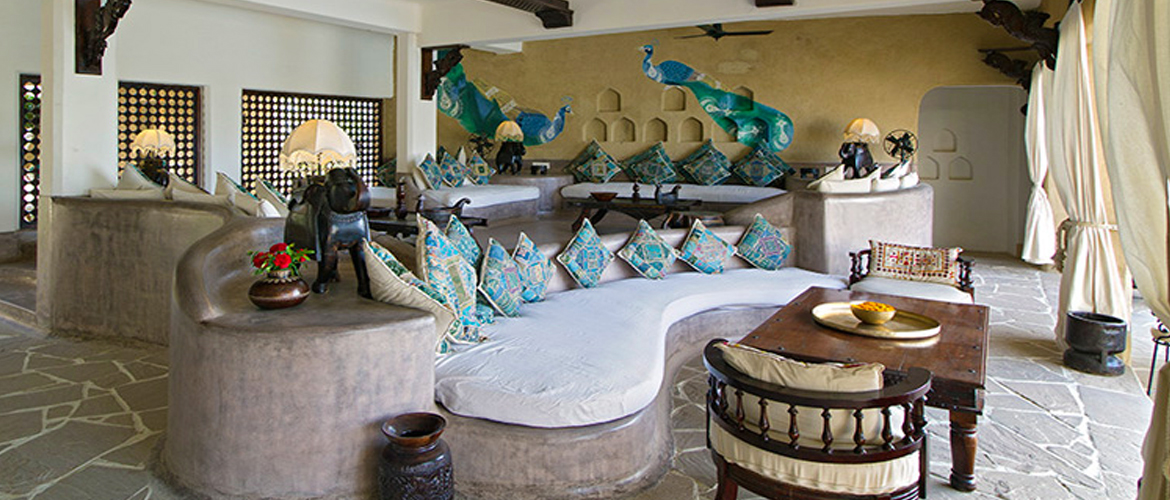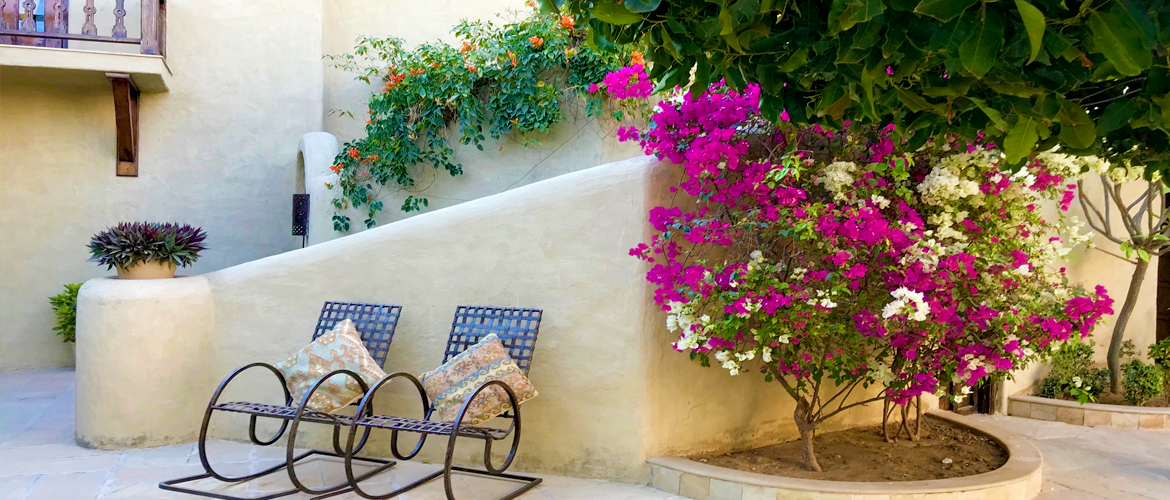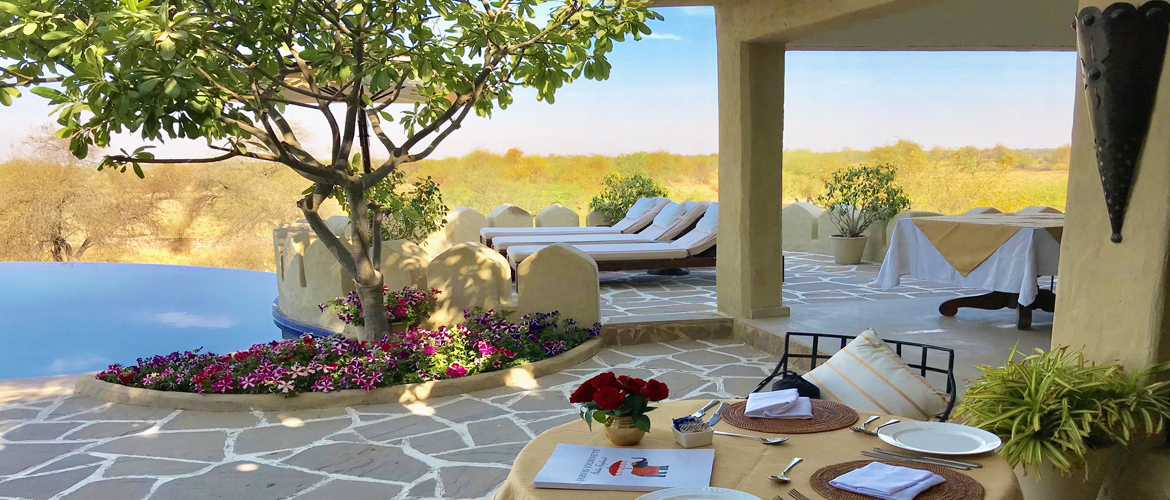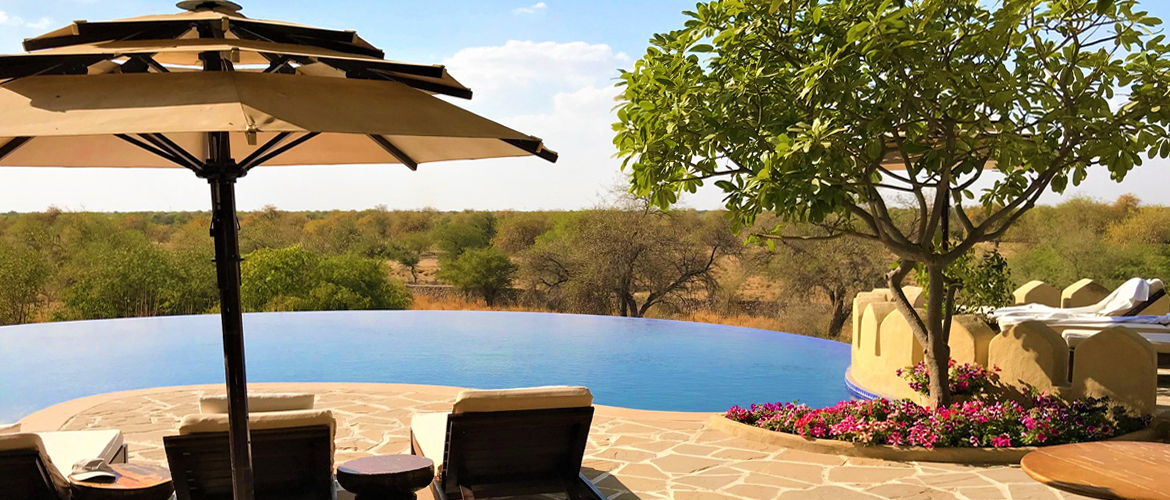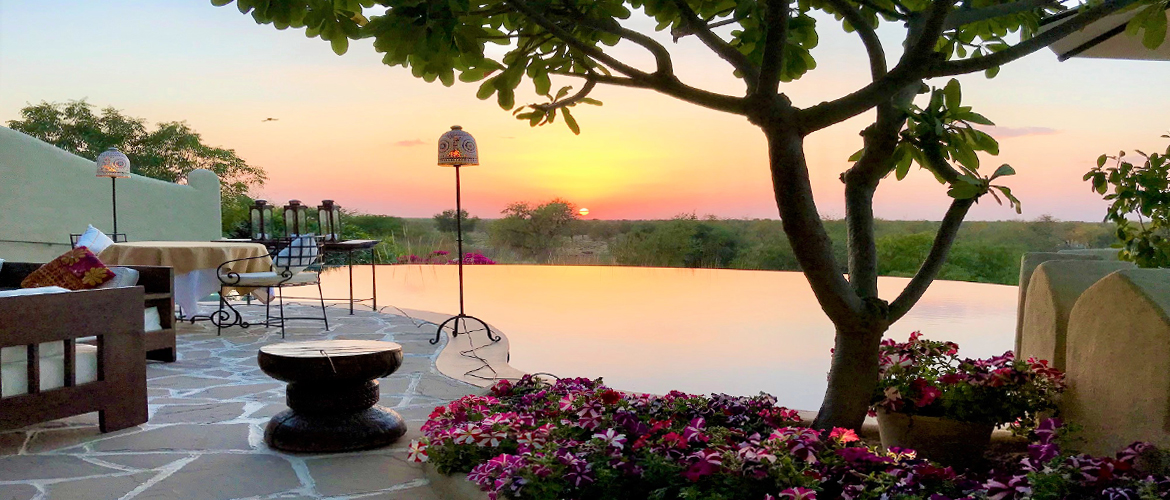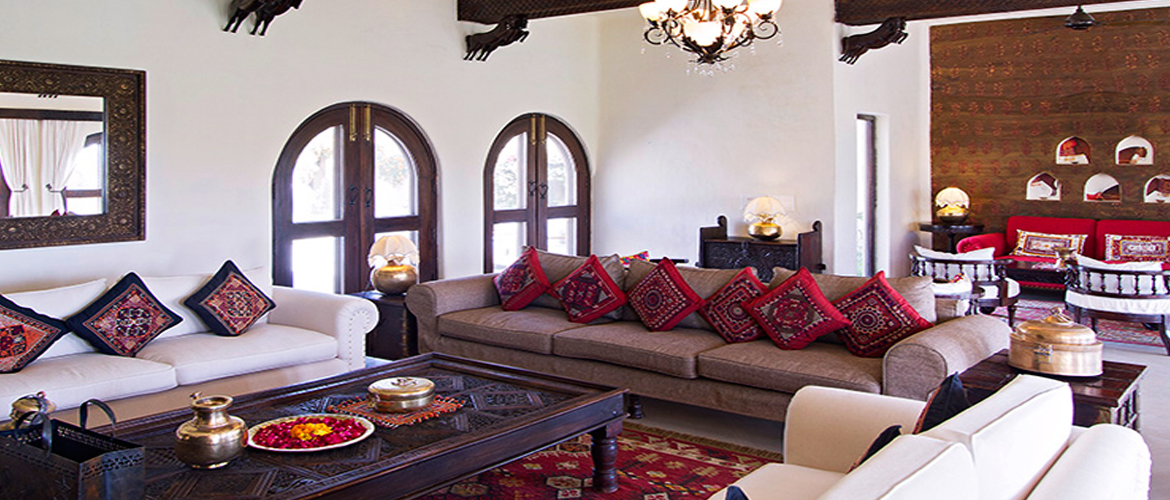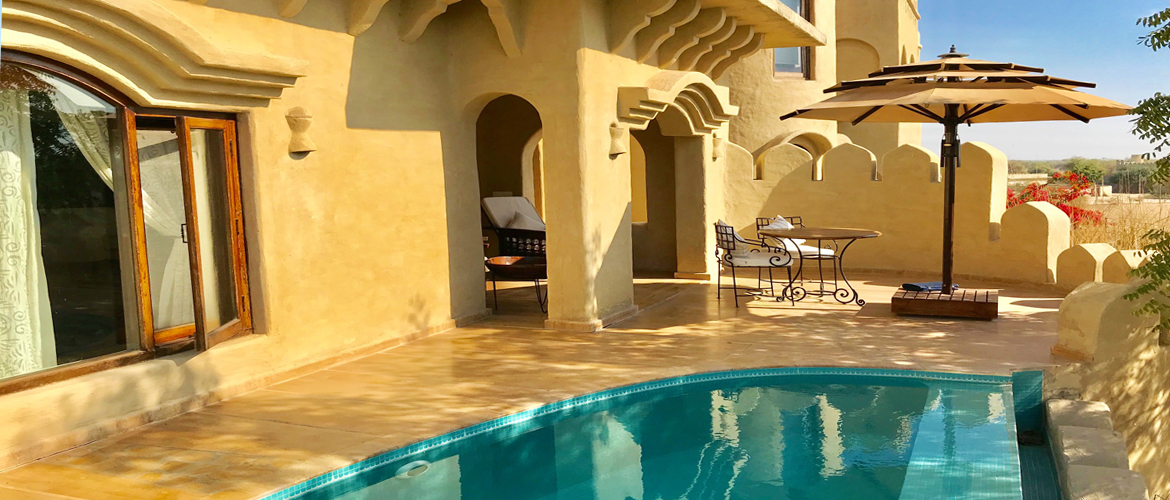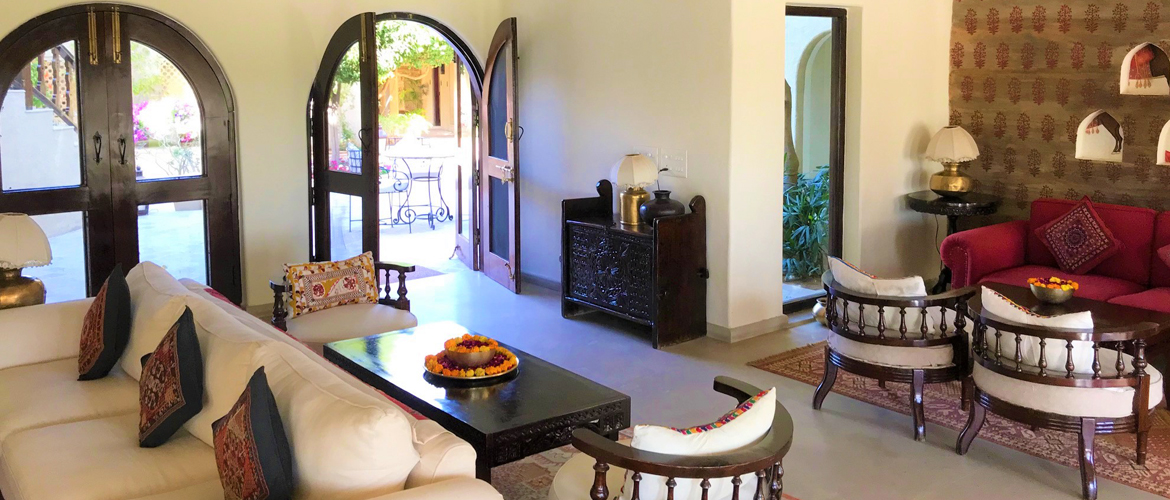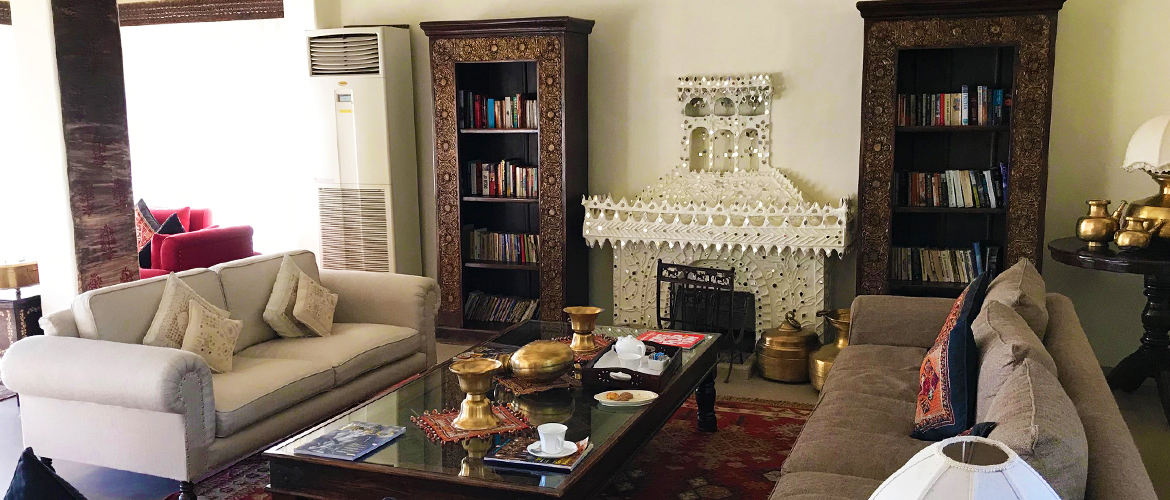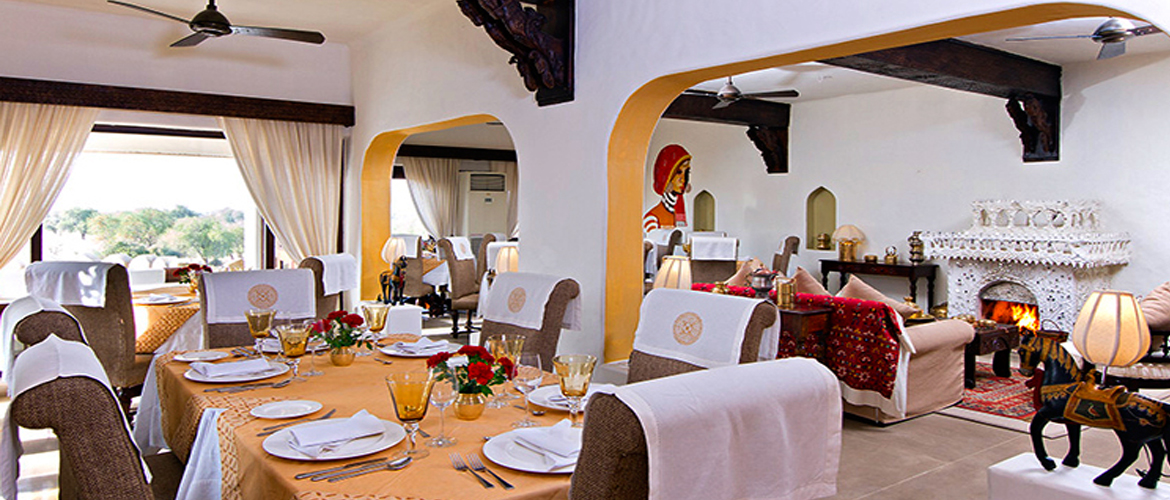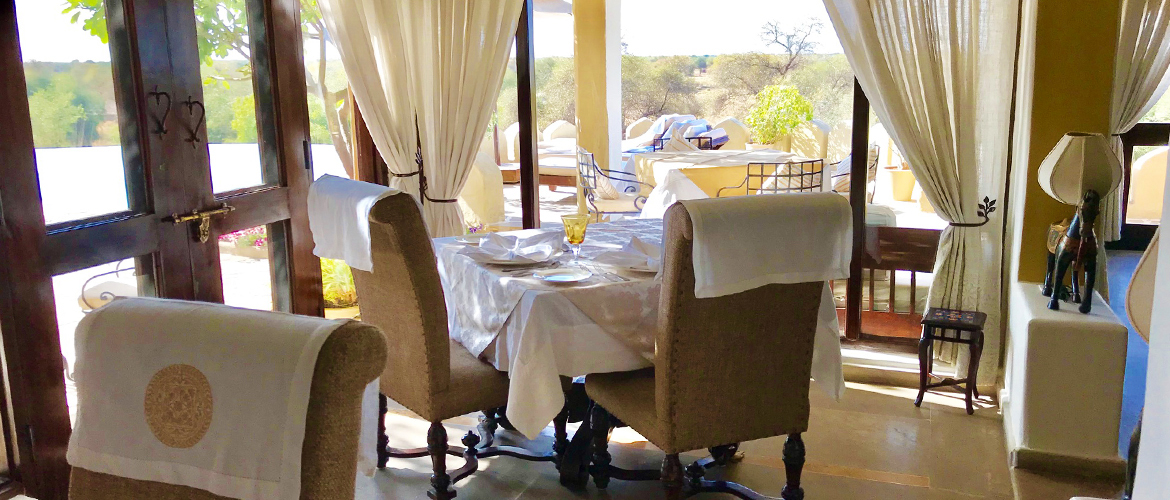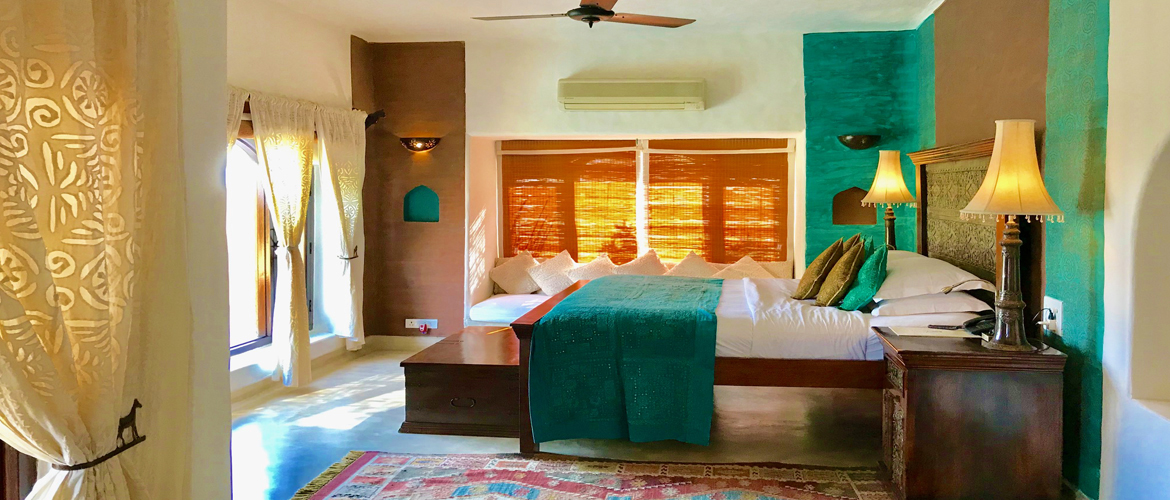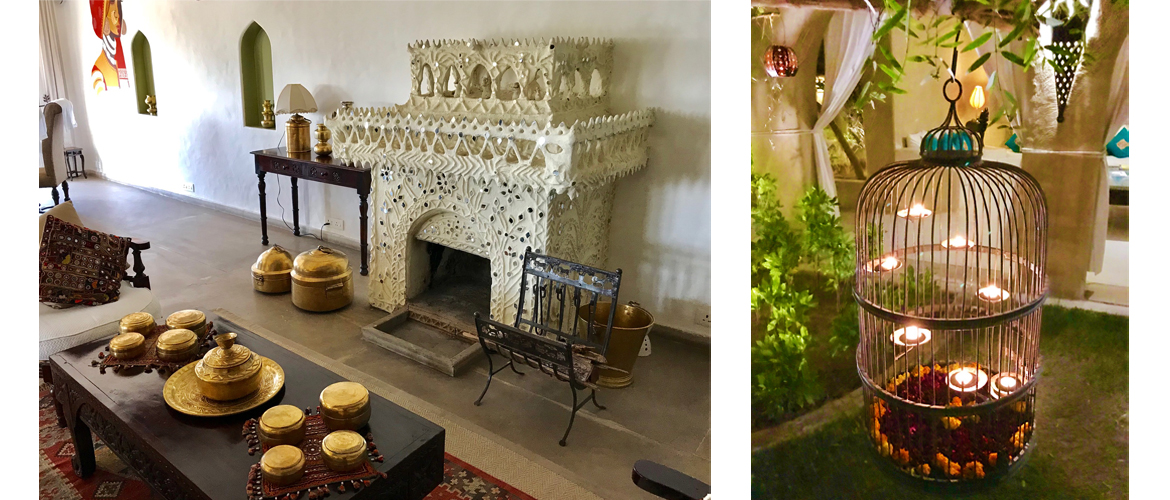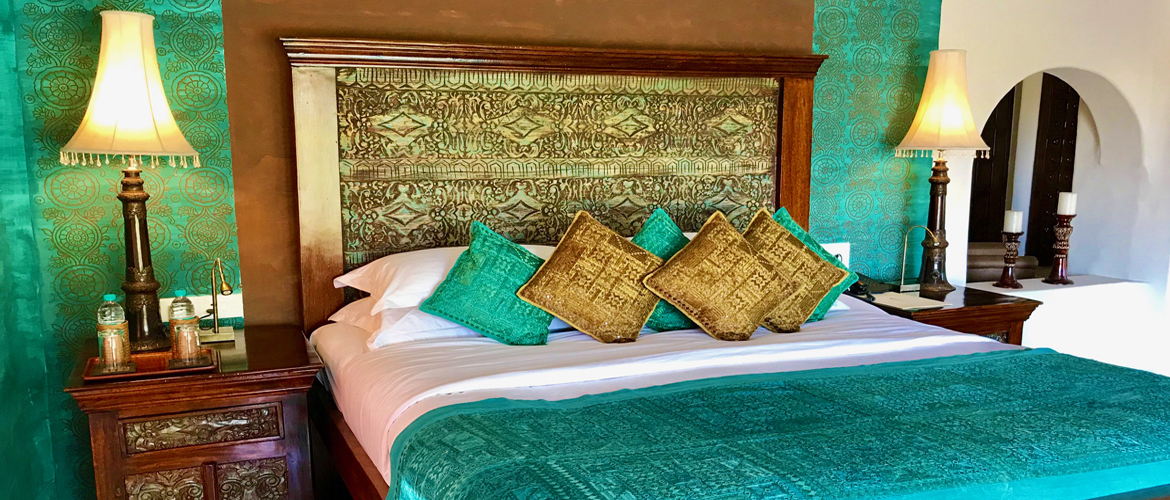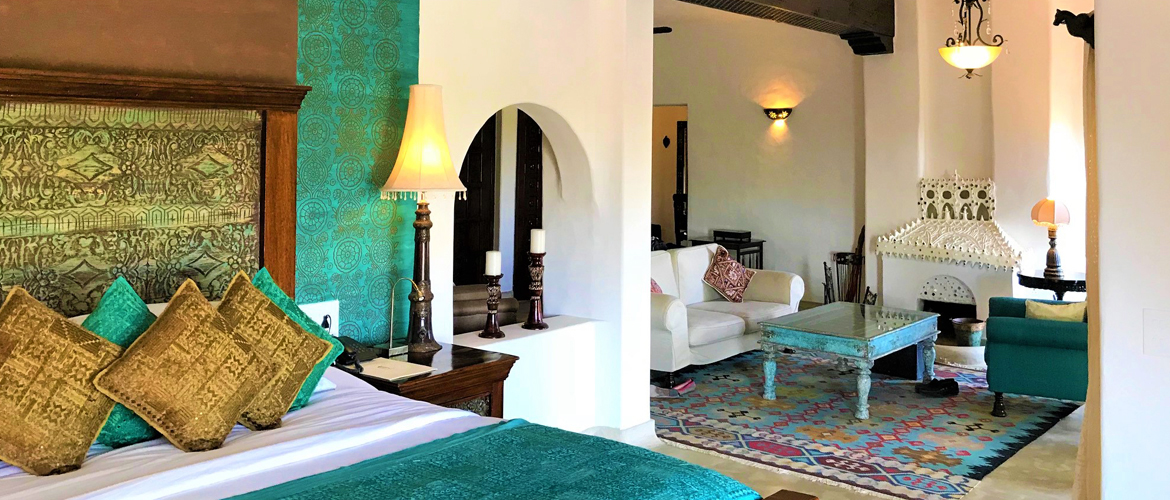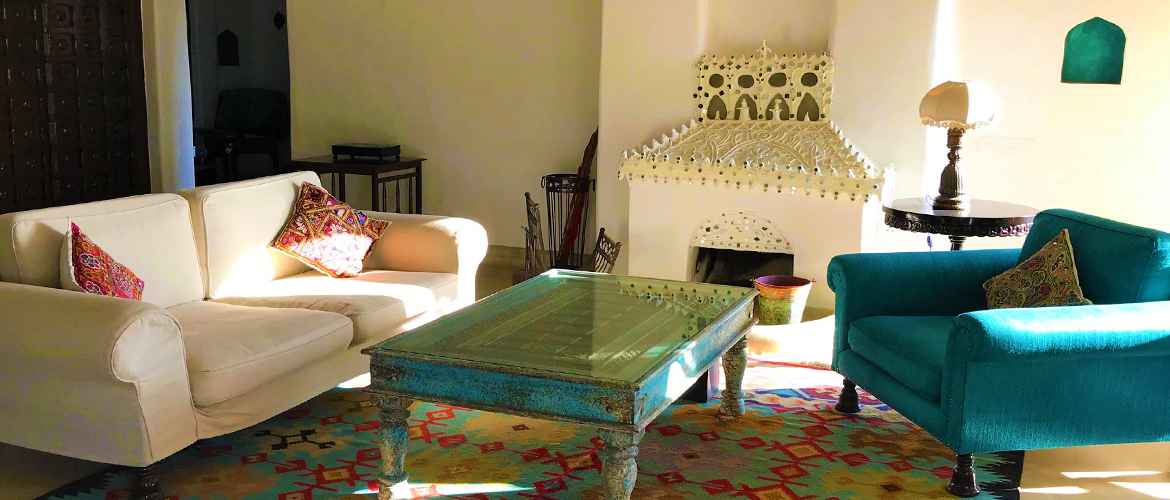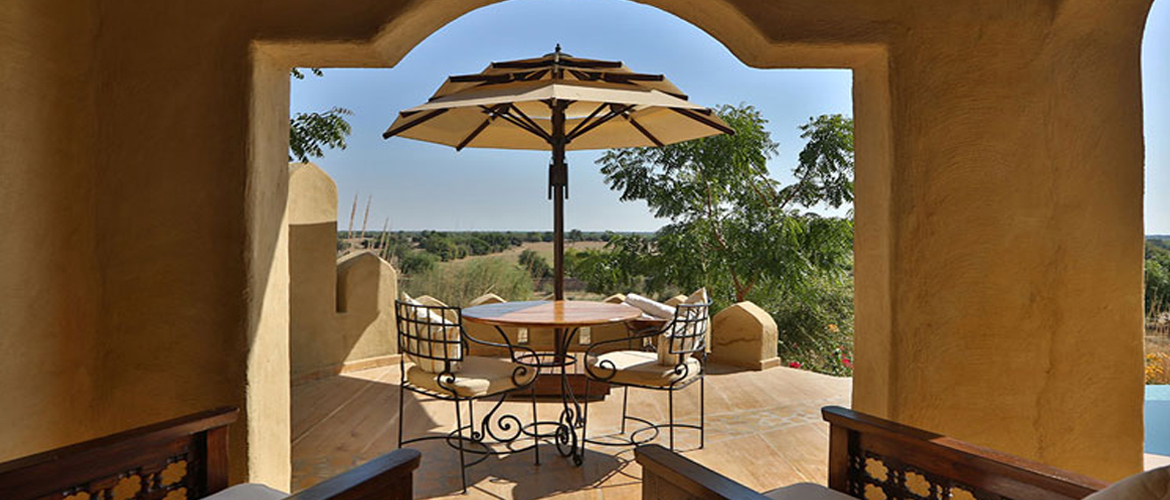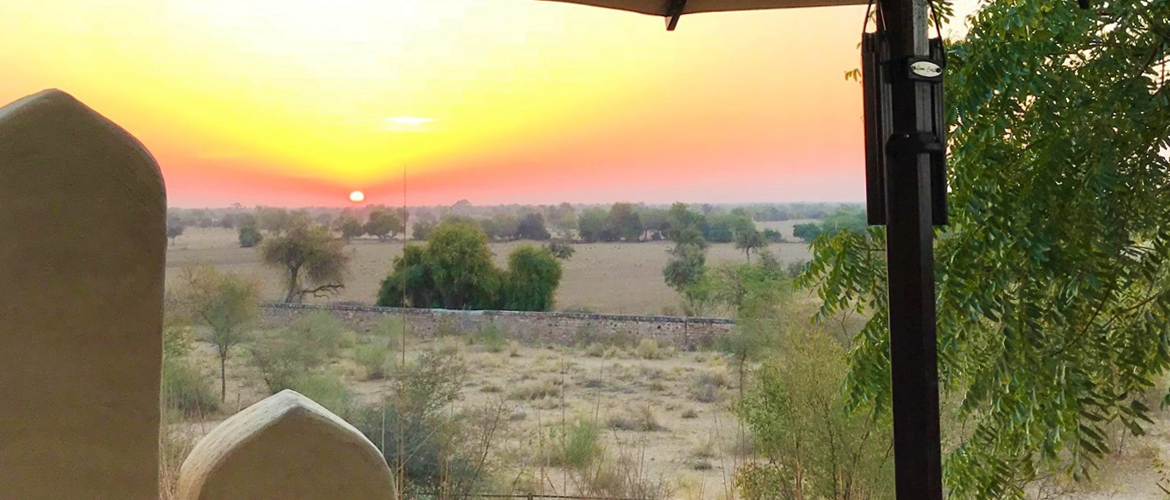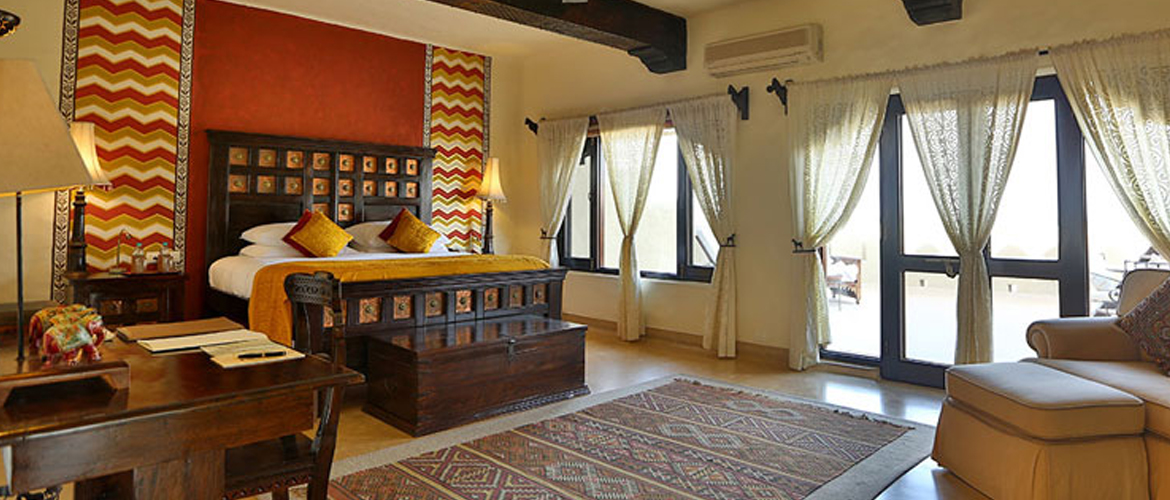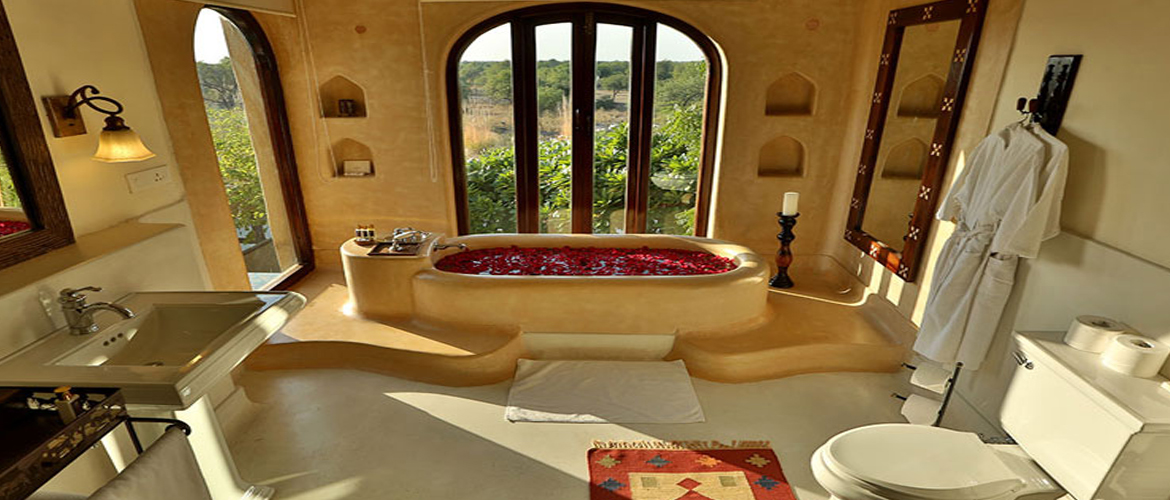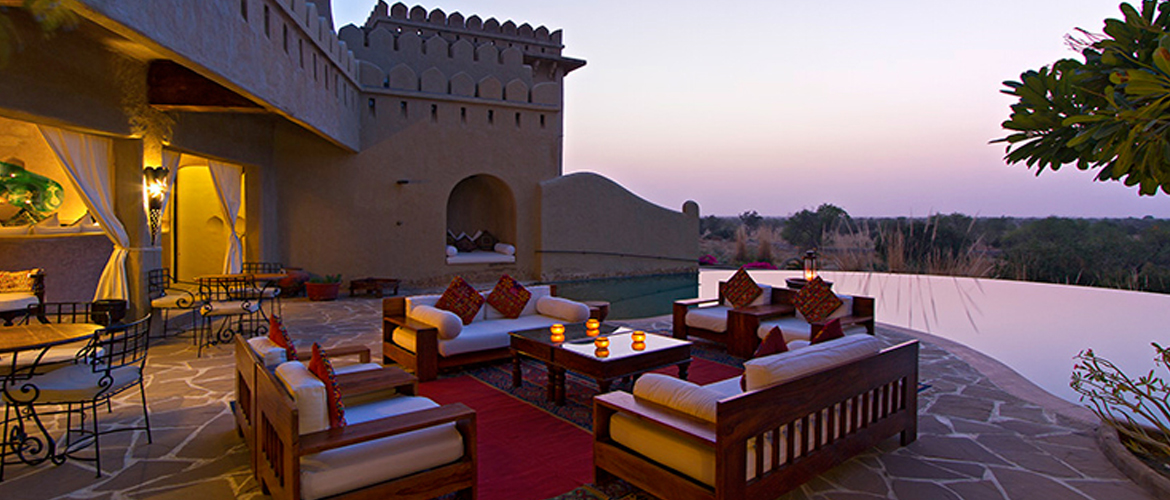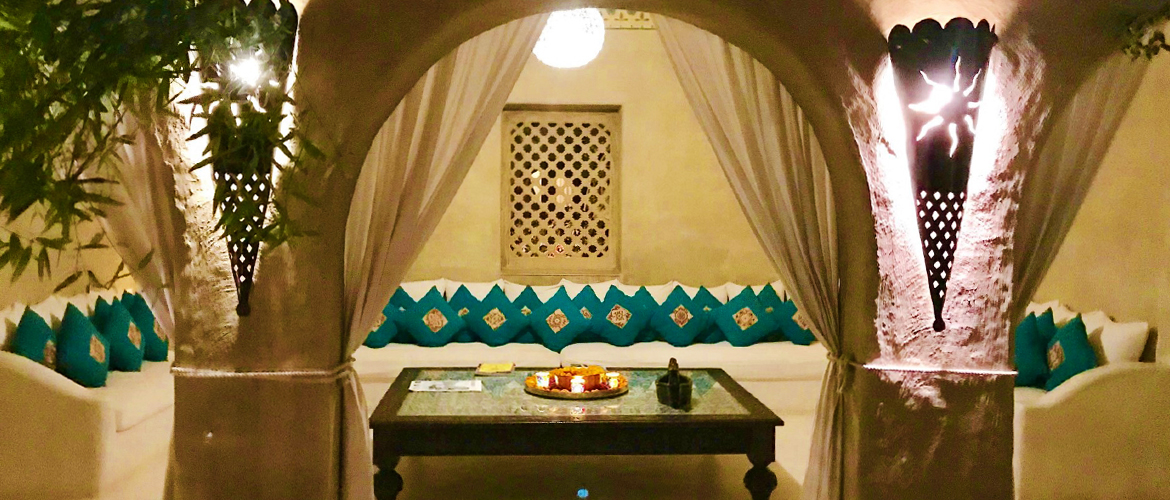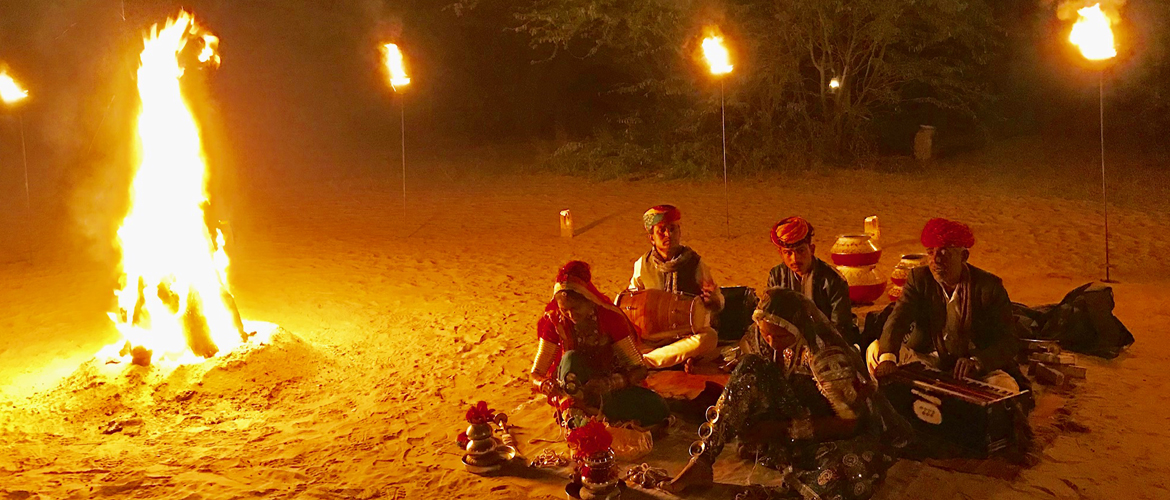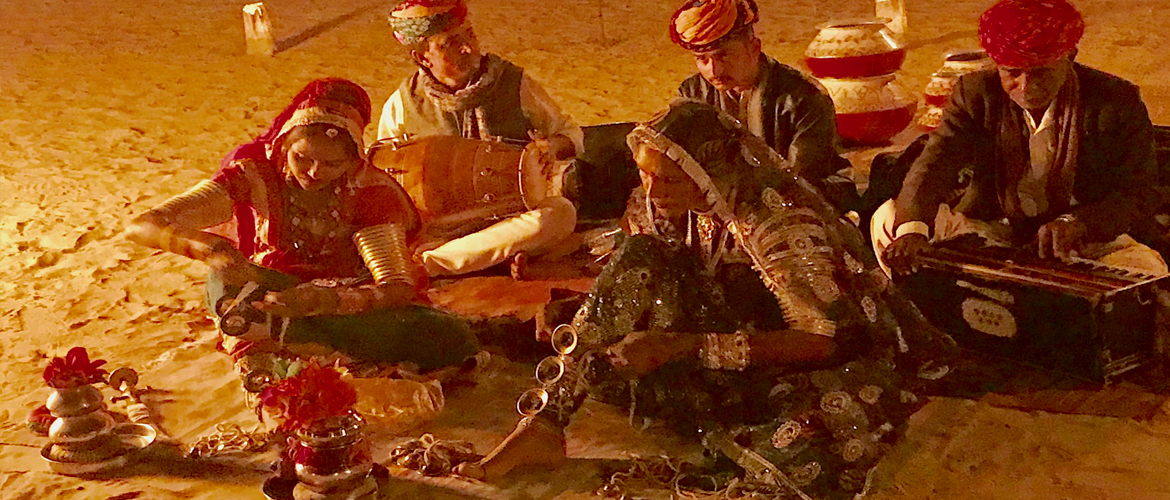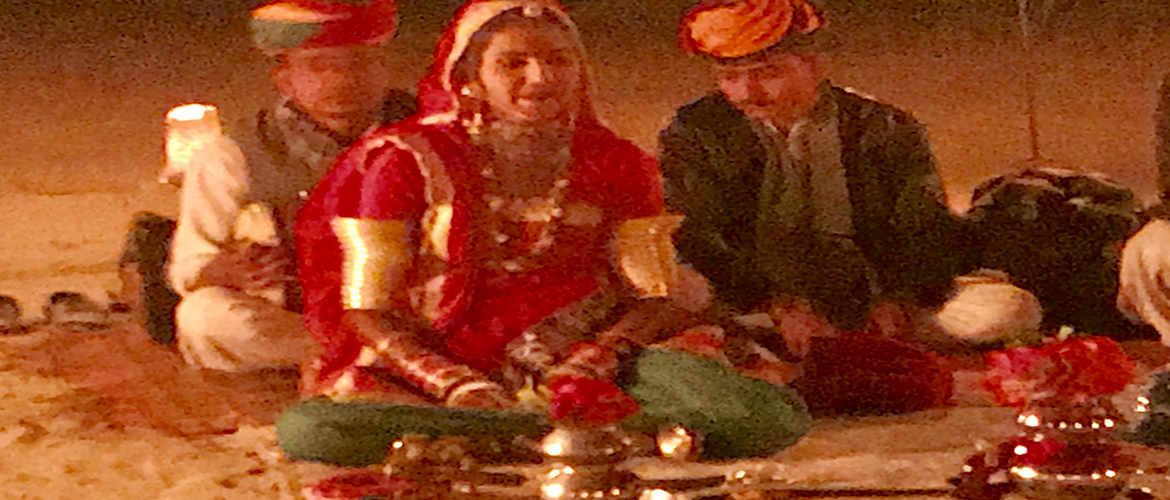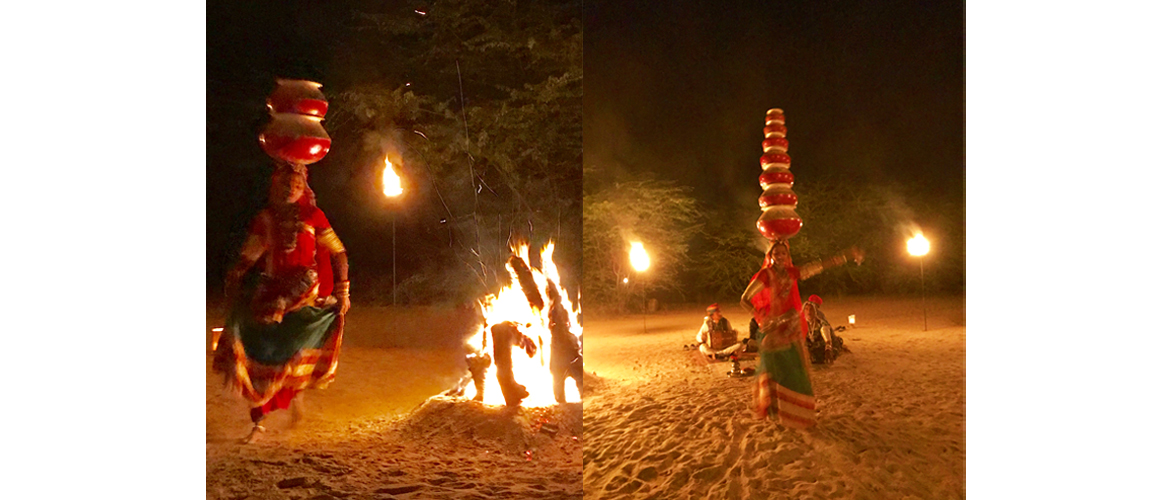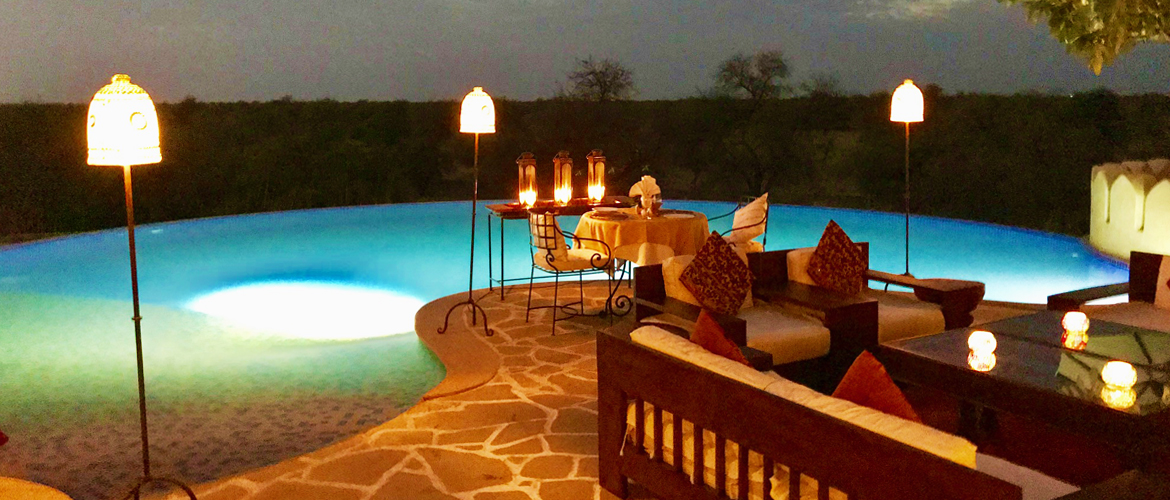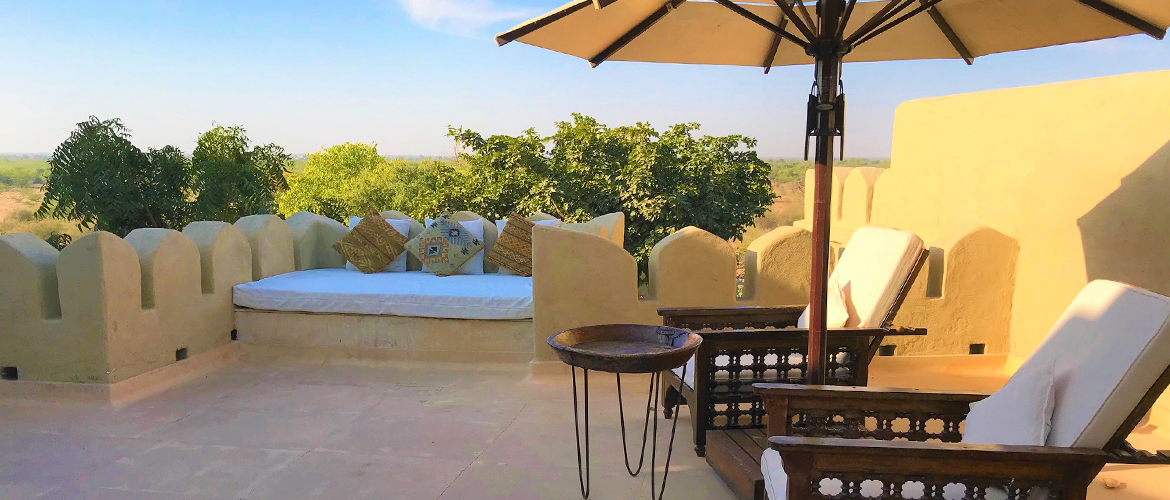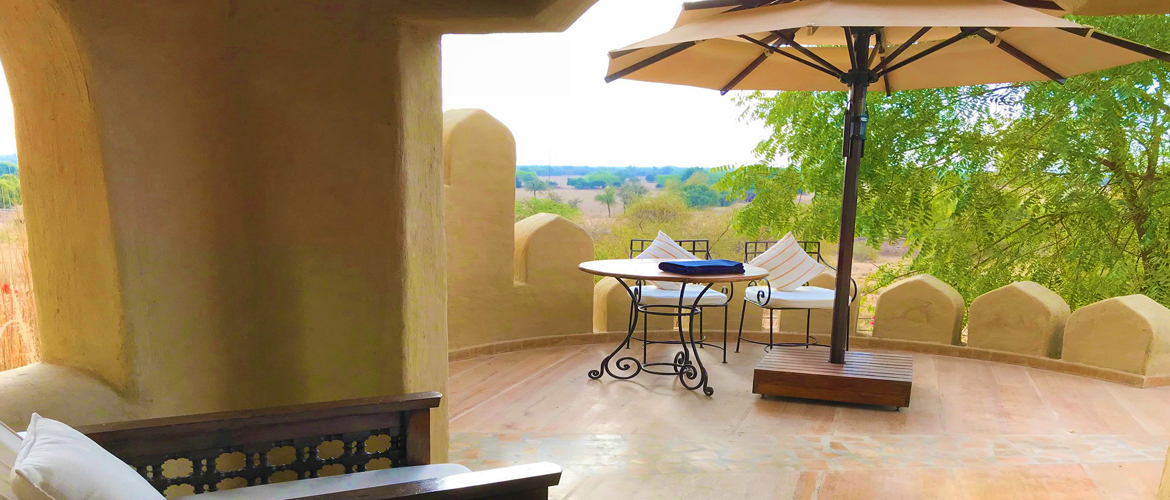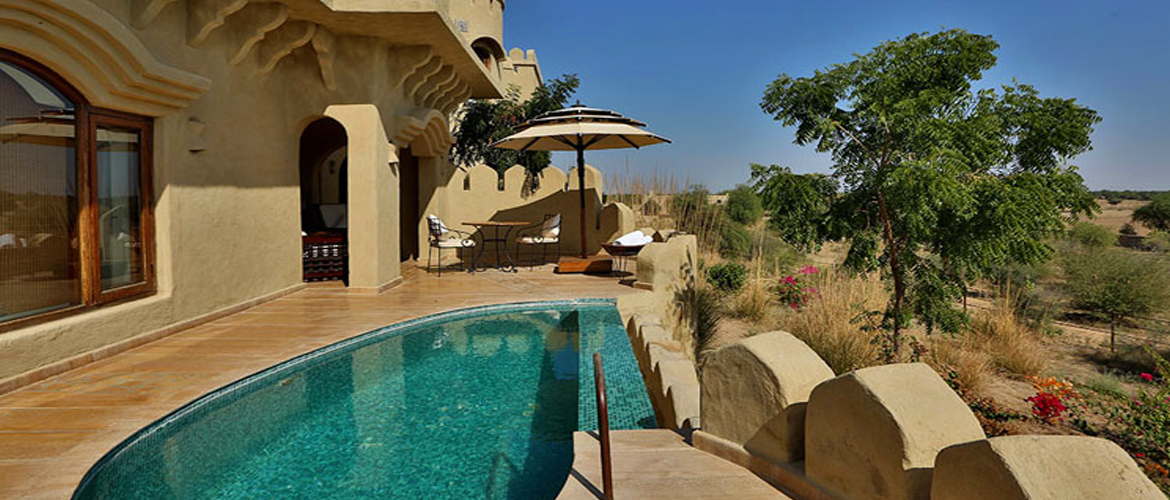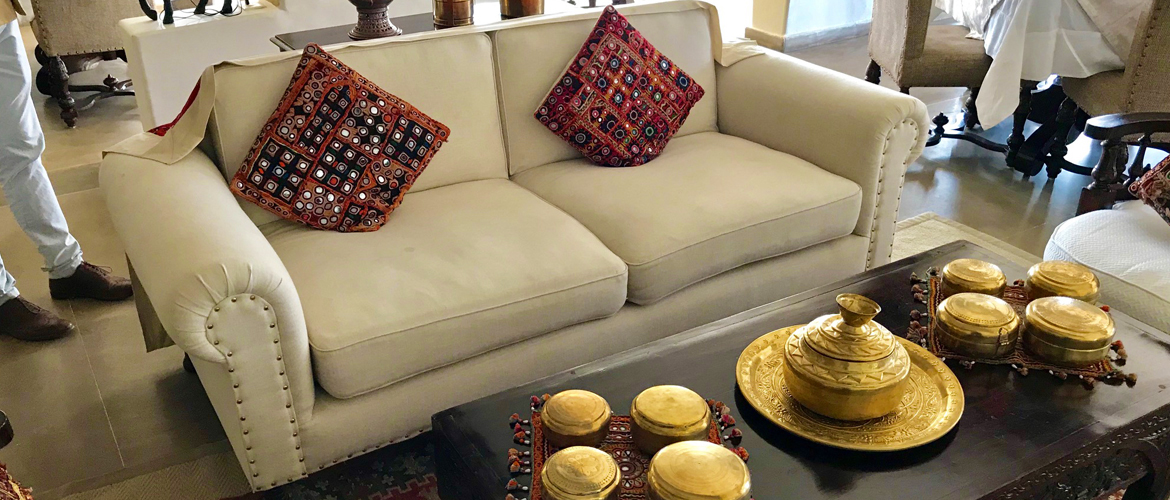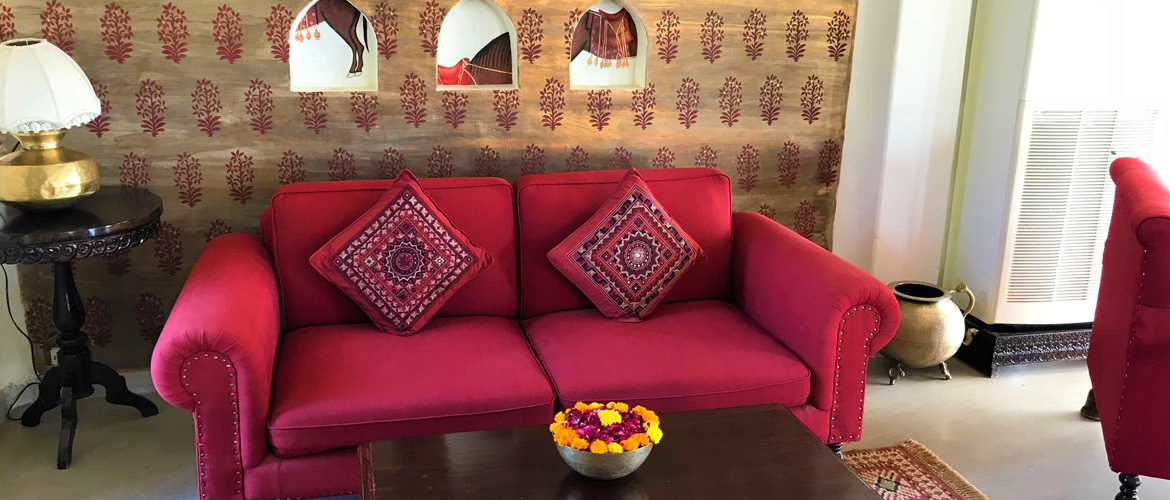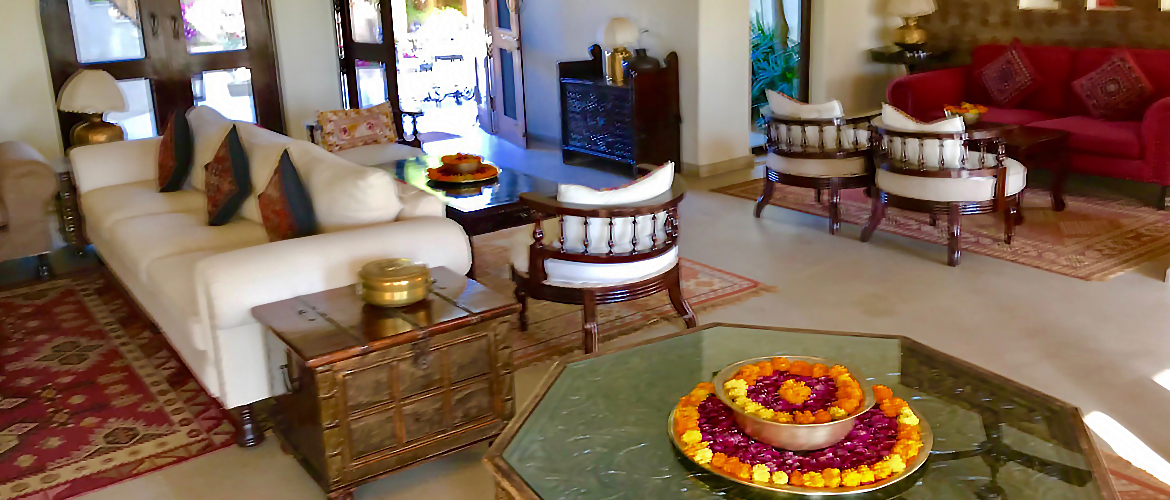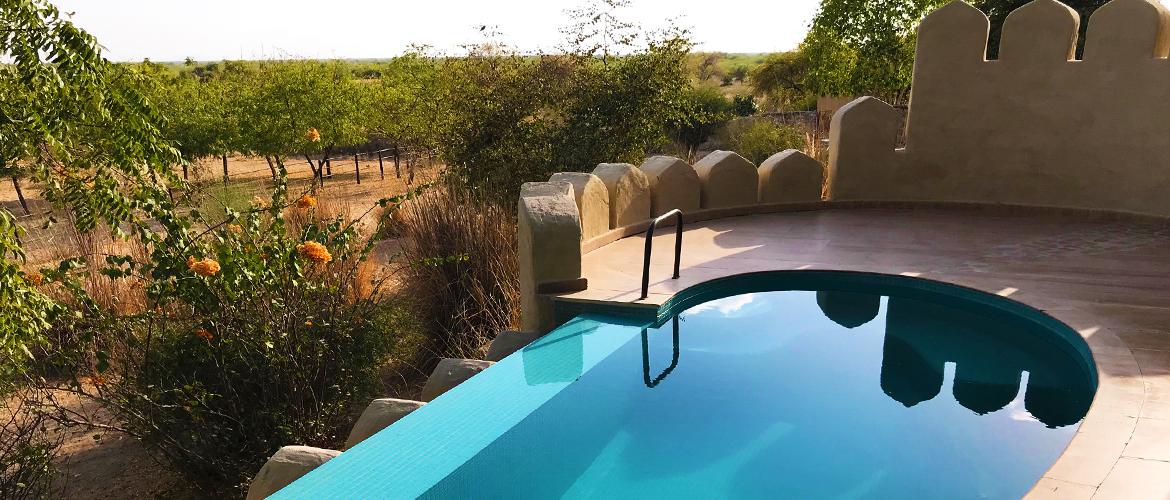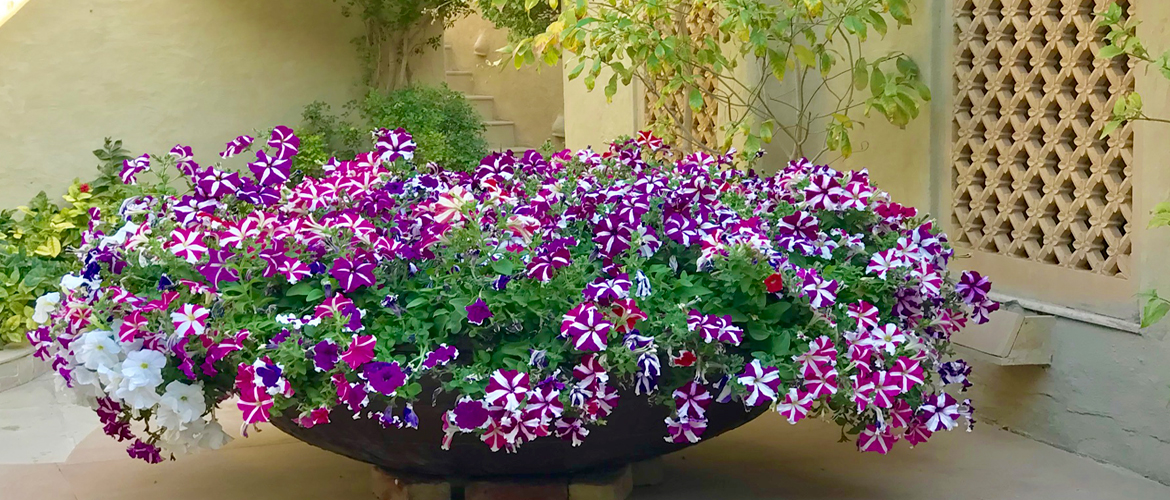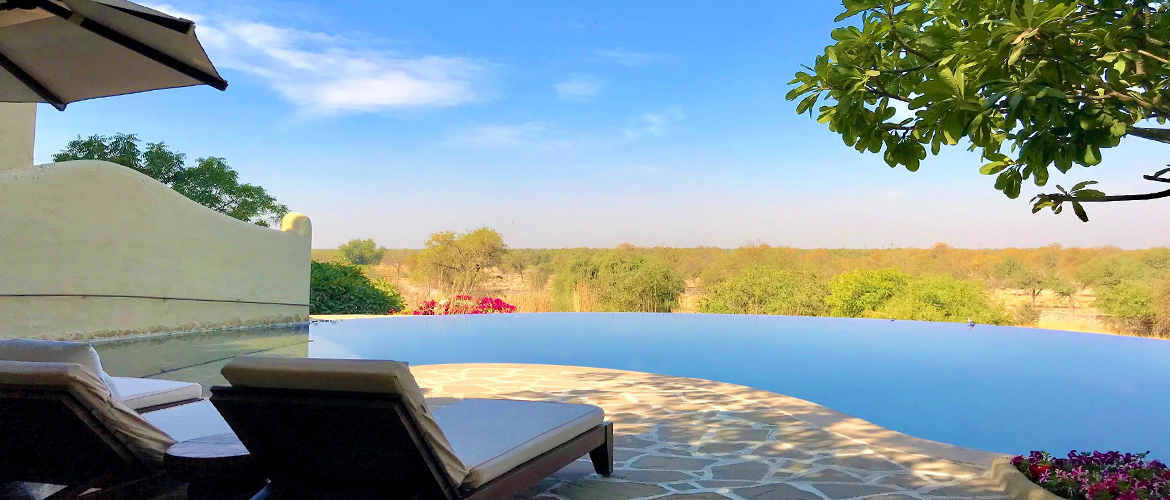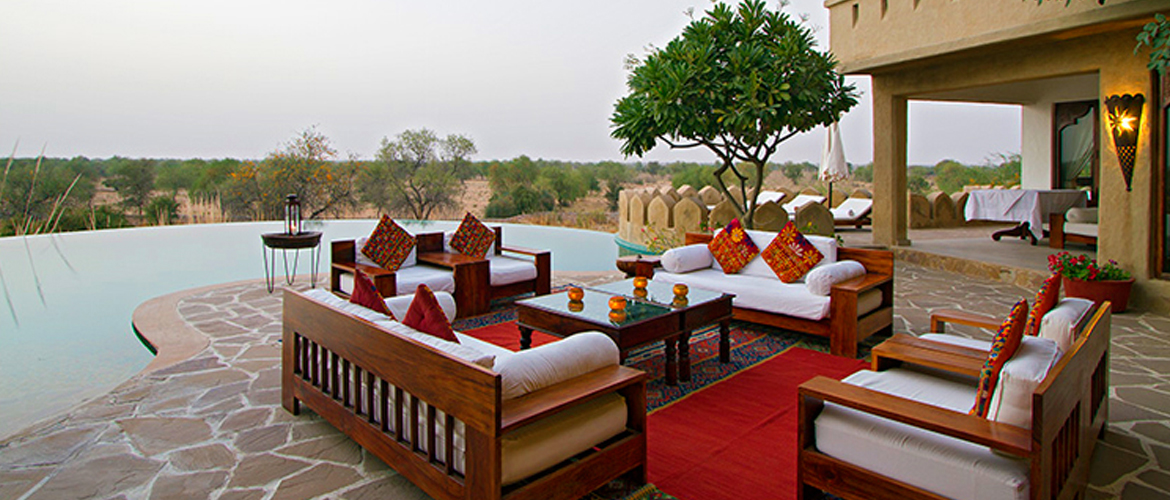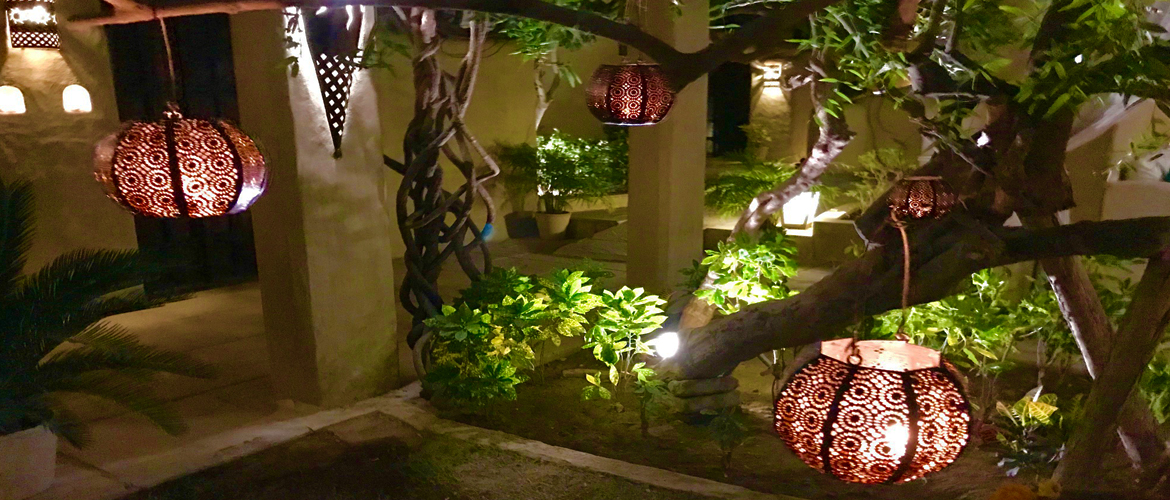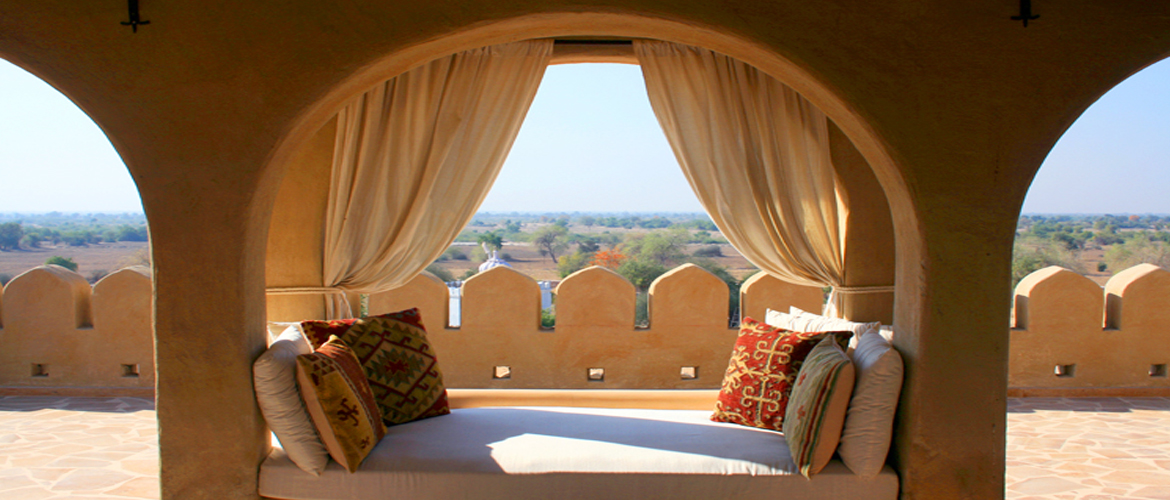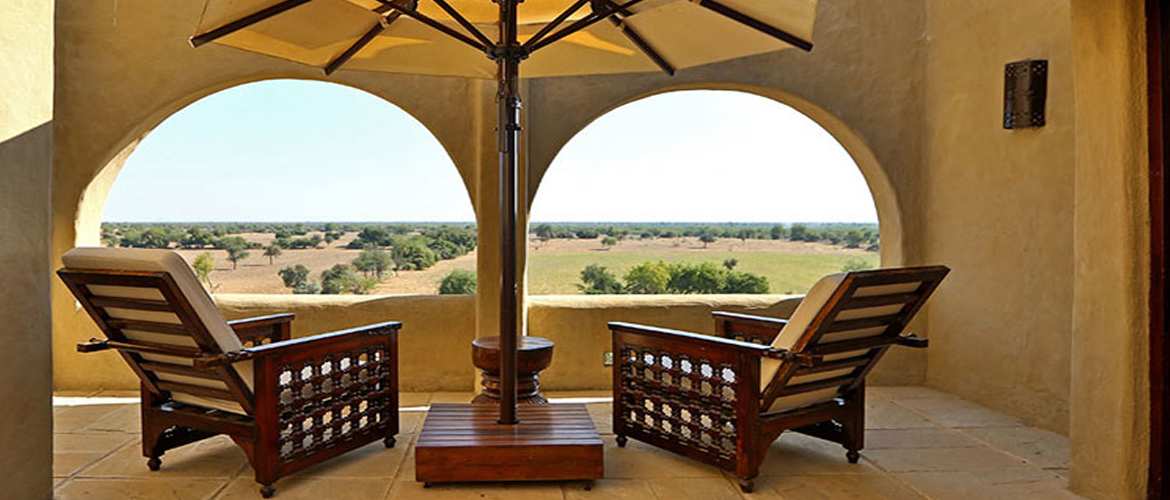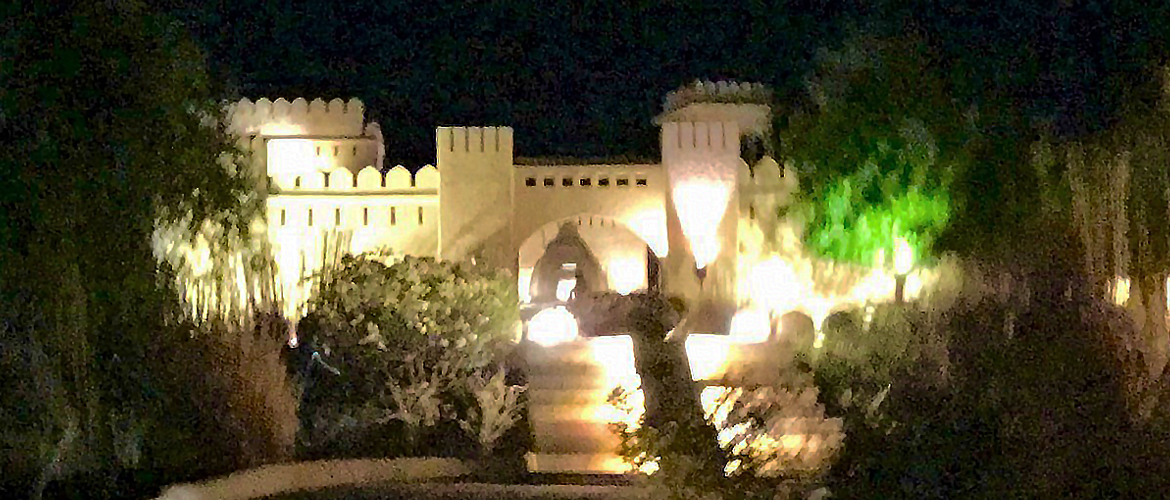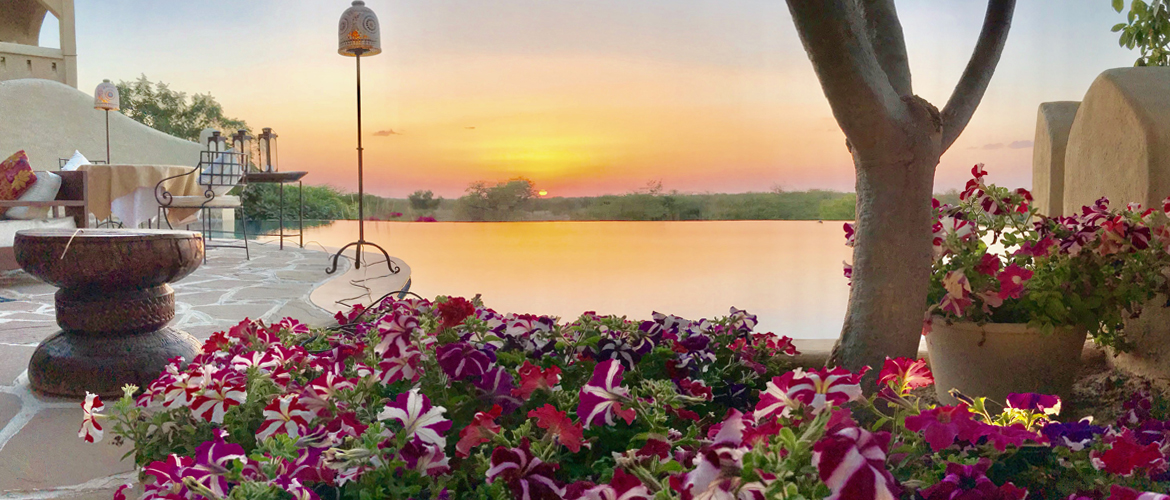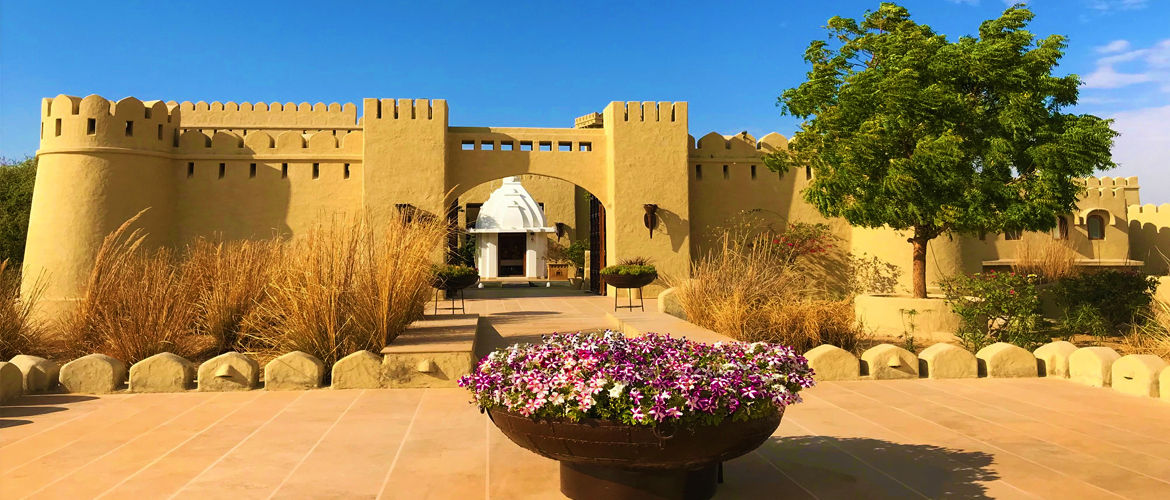 Picture a sandcastle on the grandest scale and you're halfway to imagining Mihir Garh, ("Fort of the Sun") – a fairy tale privately owned boutique fortress on the edge of the endless Thar desert. Mihir Garh, a Relais & Chateau member, is a couple of hours south of Jodhpur and is in the middle of nowhere, set atop a large sand dune overlooking the surrounding scrub desert. It is breathtaking, welcoming and charming and we love it.
There are just 9 luxurious, beautifully appointed and very spacious comfortable suites, each with their own delightful private terrace and plunge pool or jacuzzi. The Shandaar Suites upstairs have the jacuzzies, whilst the Alishan Suites on the ground floor have the plunge pools – and all have lovely views over the surrounding desert countryside.
Enjoy breakfasts, lunches and dinners by the charming infinity pool or in the adjacent dining room overlooking the desert – or seek out the several other intimate and private spots around Mihir Garh itself. Small hidden courtyards, the luxurious reading room lounge, wide roof terraces, and a pristine lawned garden are all yours to enjoy – and sunset drinks overlooking the desert is just delightful.
One evening, treat yourself to Mihir Garh's "Shikaar" Dinner in the Thar desert beside a crackling log fire, accompanied by Rajasthani folk musicians to add to the night time desert ambience. A cushioned camel cart drawn by a camel with his keeper greets you at the entrance to Mihir Garh, to transport you along a sandy desert track to a spot by a roaring bonfire. Indulge in pre-dinner drinks and copious canapes whilst the Rajasthani folk dancers twirl and whirl around the bonfire to the folk music, balancing several clay pots on their heads with astonishing and graceful ease, before you are escorted to your candlelit dinner table set a short distance away beside your own log fire.
During the day, enjoy the delightful poolside setting with a good book, take a fascinating Village safari with one of the hotel staff – or partake in Mihir Garh's signature "Royal Picnic Lunch" under a wide canopy by the lake to "feel the pulse of rural Rajasthan".
The staff are very friendly and helpful, the food is very good and the setting is amazing. Mihir Garh is completely off the beaten track and is totally unique – you won't find such an intimate, sophisticated and comfortable sand dune fortress boutique stay anywhere else in Rajasthan.